Many Hands Community Foods
An Easy Way to Buy Real Food!
Here are 15 great reasons to stop at Westwind's new retail store, "Many Hands Community Foods" -- Our sustainable food vendors!
Al-Mar Orchards - www.AlmarOrchards.com

One of our most valued business alliances, Al-Mar's organic apples and cider have been on Westwind's shelves since we opened. They've had a great season this year, and we're so glad their excellent quality apples and richly blended sweet cider is back!



Bob n Trout Soaps - www.bobntrout.com - I'm so glad that these talented folks brought their soft and subtle scents into our store! I've used them for years, and they were the first ones I thought of when customers asked for soaps. Actually, these are the only non-food items in the store - they are handmade in small batches from raw goat milk, sustainable oils and using only pure essential oils. They never use synthetic fragrance, chemicals, dyes or from anything you could not eat. They also make dairy free soaps for people with dairy sensitivity. Great gifts, great for your skin!



Currey Farms Maple Syrup - www.CurreyFarms.com

Harvested from their sugarbush in Charlevoix, Michigan, the Currey family is on their 4th generation of producing wonderfully sweet and nutritious pure maple syrup here in Michigan. We're so glad it's back here at Many Hands Community Foods!



Dale's Cheesecakes - www.DalesCheesecakeShoppe.com

Dale's is back! Instead of having his old store (now Balanced Body Yoga), Dale is selling his cheesecake directly out of the cooler at MHCF. Choose a cheesecake off the shelf as a treat for dinner, or you can still order a specific cheesecake of various sizes and flavors for any special occasion.




Fallen Oak Farm - www.facebook.com/FallenOakFarm - Our newest vendor, has their certified naturally grown chickens in the freezer, vacuum sealed for freshness, as well as their beautiful eggs in the cooler. Having eggs consistently is something we've been striving for, and are glad these people beautiful eggs in the cooler. Having eggs consistently is something we've been striving for, and are glad these people who specialize in raising poultry have been willing and able to take it on for us.



The Granola Tree - www.thegranolatree.com/

The Granola Tree brings us a wonderful variety of nut butter spreads and jams - from the exotic eggplant or onion jam (great for cooking!) to classic grape jelly, and from plain to mexican spicy to caramel apple peanut butters, and lots of sunflower butters, as well! You can tell that owner Christine has a palette for every taste. Give her products a try, and discover the creative chef inside you! These make unique holiday gifts, as well.




Hartland Pizza & Pasties - www.HartlandVillageMarket.com

We're so glad to have these wonderful veggie pasties here, really packed with flavor and a great crust! We're hoping for frozen pizzas, as well -- made with local Michigan grown veggies, too!




Sansonetti Foods - www.sansonettifoods.com
We've known Joe and Kathy almost from the start of Westwind, a good decade or so now... These two make wonderful pasta sauces, salad dressings, salsas, grilling sauces, and mustards, one of which has won Napa Valley California's Mustard Competition!! Their tastes are extraordinarily bright and fresh, many of their ingredients coming from their own backyard, and all of it made by hand in their own commercial kitchen from Joe's family recipes! Try them to brighten up mean meals!



Two Sisters Bakery - exclusively at Many Hands Community Foods!

Teresa of Two Sisters Bakery bakes decadently rich desserts and treats! Her talent for mixing complementary ingredients creates a unique signature for Two Sisters' goods. Try them out when you stop by!



Terra Forma Pasta

Enjoy the incredible taste of fresh pasta from fresh frozen noodles in fettucine and cavatelli. Made from Westwind's bread flour and fresh local eggs, you haven't tasted pasta until you've tried Stephen's -- WOW!



Ulrich Farm - (989) 871-2314 - Certified organic, grass fed and VERY lean beef, as well as certified organic pork are raised at this farm in Millington, and are in the freezer here for the MHCF customers to enjoy. These highest quality meats, being quite lean, need a good marinade to attain their best flavor. Once marinated, you'll be delighted at the results and know you're contributing to your own health as well as to that of the environment, to cruelty free farms for animals, and to the local economy, as well.




Upnorth Fishery - Jeremy Rice and Lia Hang
www.facebook.com/pages/Upnorth-Fishery/200569876715474 - Up in northern Lake Michigan, off the coast near Traverse City, you can often find Jeremy Rice harvesting the Salmon, Lake Trout, Perch, and Whitefish that you'll find here in the freezer at MHCF. Freshly caught, vacuum packed and frozen, you'll taste how great this truly fresh fish is!



Whetham Organic Farm - www.facebook.com/whetham-organic-farm

Pat Whetham has been the go to person for just about anything organic for decades now. These days, she is focusing on herbs, medicinal and culinary. She does everything from seed to glass jar, from her hand blended culinary mixes to medicinal teas and elixirs. They are here on the shelf at Many Hands, ready to go with our meats, pasta, and fruits, as well as ready to heal cuts and strengthen the body.




White Pine Farm & CSA Farmers Market - www.whitepinefarm.net - White Pine Farm/CSA Farmer's Market has lined an entire cabinet with their certified organic, Michigan grown dry beans and soup mixes, 6 varieties in all. Including recipes, these are very economical, protein dense, slow carb foods and stick to the ribs winter energy foods, as well. We have a wide variety of organic raw cheeses, as well, thanks to Marian and CSA Farmer's Market. Also – check online at www.csafarmersmarket.com for a larger selection of foods, including seasonal produce, that you can pick up at Westwind on a weekly basis.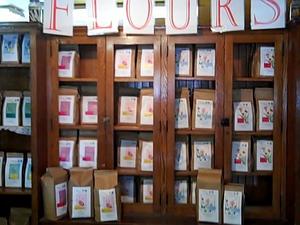 Westwind Milling Co., LLC - www.WestwindMilling.com
Last but not least, of course we have Westwind's stone ground flours and baking mixes, milled from certified organic Michigan grown grains, as well as our flours and baking mixes milled from our US grown, non-gmo gluten free grains. We're bringing in new mixes this fall, and you'll find all our flour products in between the many new vendors, all working together in one store to bring more choices for healthy, real foods to your table.






2013 (c) Many Hands Community Foods, division of Westwind Milling Company, LLC